An Overview of NUMSS Admissions to Bachelor of Science in Massage Therapy Program – BSc (MT)
Thank you for your interest in the Bachelor of Science in Massage Therapy degree program of the National University of Medical Sciences (Spain). This program is offered 100% online worldwide. Our Admissions department is eager to help you in any way we can. We invite you to contact NUMSS (admissions@numss.com) and ask us any questions you may have. All massage therapy video lectures are available online & in English. The classes are available on-demand online through internet or they may be watched on a TV screen by using a portable hard drive that could be shipped to students. Students from every corner of the world are eligible to apply and study at the comfort of their homes. There are optional week-long practical technique classes in Madrid for online students. Students from most other countries are eligible to use the tuition as a business expense to reduce their annual business income tax.
This program is available only to massage therapists who are registered massage therapists, certified massage therapists, and licensed massage therapists.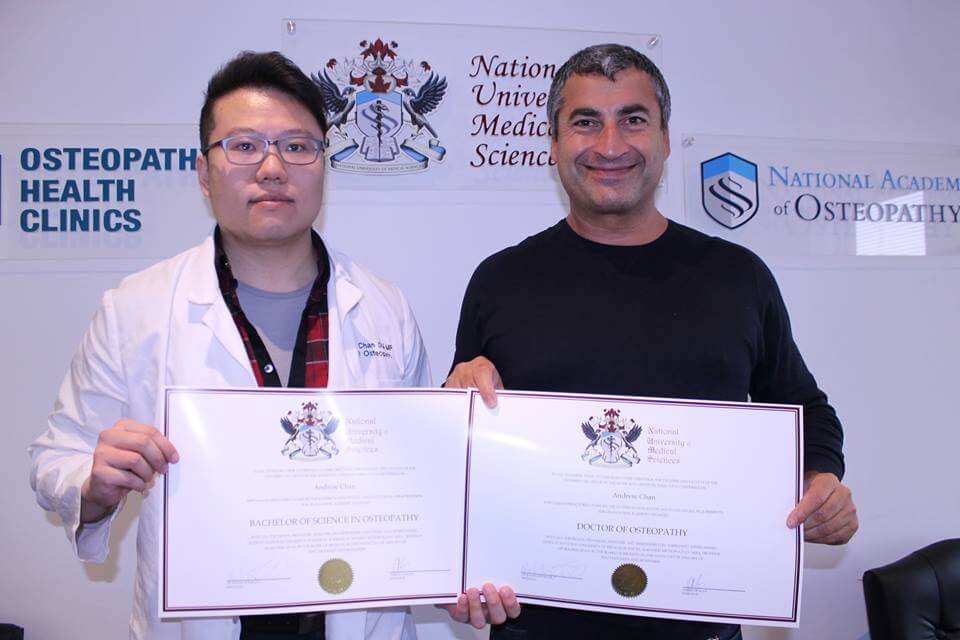 The Bachelor of Science in Massage Therapy degree program can be taken as a dual degree program with the Doctor of Osteopathy (DO), Master of Business Administration in Health Care (MBA), Master of Science in Athletic Therapy MSc (AT), and the Master of Science in Pedorthics MSc (P).
Curriculums for the Bachelor of Science Degree in Massage Therapy – BSc (MT) program for massage therapists (1 year – 1568 hours total – 784 hours per semester)
| 1st Year (1st semester) | 1st Year (2nd semester) |
| --- | --- |
| CB 102   Clinical Biomechanics | OT 101   Diagnosis and Joint Mobilization |
| ND 202   Neuro Diagnosis | OT 102   Muscle Energy Techniques |
| DS 202   Diagnosis and Symptomology | PT 301   Physiotherapy Modalities |
| CN 102   Clinical Nutrition | SI 401   Sports Injuries |
| PA 201   Pathology | RX 401   Radiology and Diagnostic Imaging |
| OR 301   Orthopedic Examination | OC 301   Business Management |
| NE 302   Neurology | TH 402   THESIS and Research Project |
| PL 101   Optional Class: Practical Training Weeks (Techniques Review) | PL 101   Optional Class: Practical Training Weeks (Techniques Review) |