An Overview of NUMSS (Spain) Admissions to the Doctor of Naprapathy (DN) Program
Thank you for your interest in the doctor of naprapathy (DN) degree program of National University of Medical Sciences (Spain). The DN program is offered online (worldwide). Our Admissions department is eager to help you in any way we can. We invite you to contact NUMSS (admissions@numss.com) and ask us any questions you may have. All naprapathy classes are online & in English. The lectures are available on-demand online through internet or they may be watched on a TV screen by using a portable hard drive that could be shipped to students. Campus attendance is not required for the online DN program and students from every corner of the world are eligible to apply and study at the comfort of their homes. However students who wish to practice naprapathic techniques under supervision of a professor have the choice of attending the optional week long practical techniques review at Madrid, Spain or a number of other cities once per semester. The practical lab is not mandatory and students can graduate without attending the lab. NUMSS (Spain) DN graduates are eligible to work in most countries including USA (except in the states where naprapathy is regulated), Canada, Spain, Italy and elsewhere. NUMSS (Spain) students in Canada and some other countries are eligible to receive tuition and textbooks tax credit from their tax authorities as we are accepted as a foreign university by the Canadian government as well as a number of other countries. Students from most other countries are eligible to use the tuition as a business expense to reduce their annual business income tax.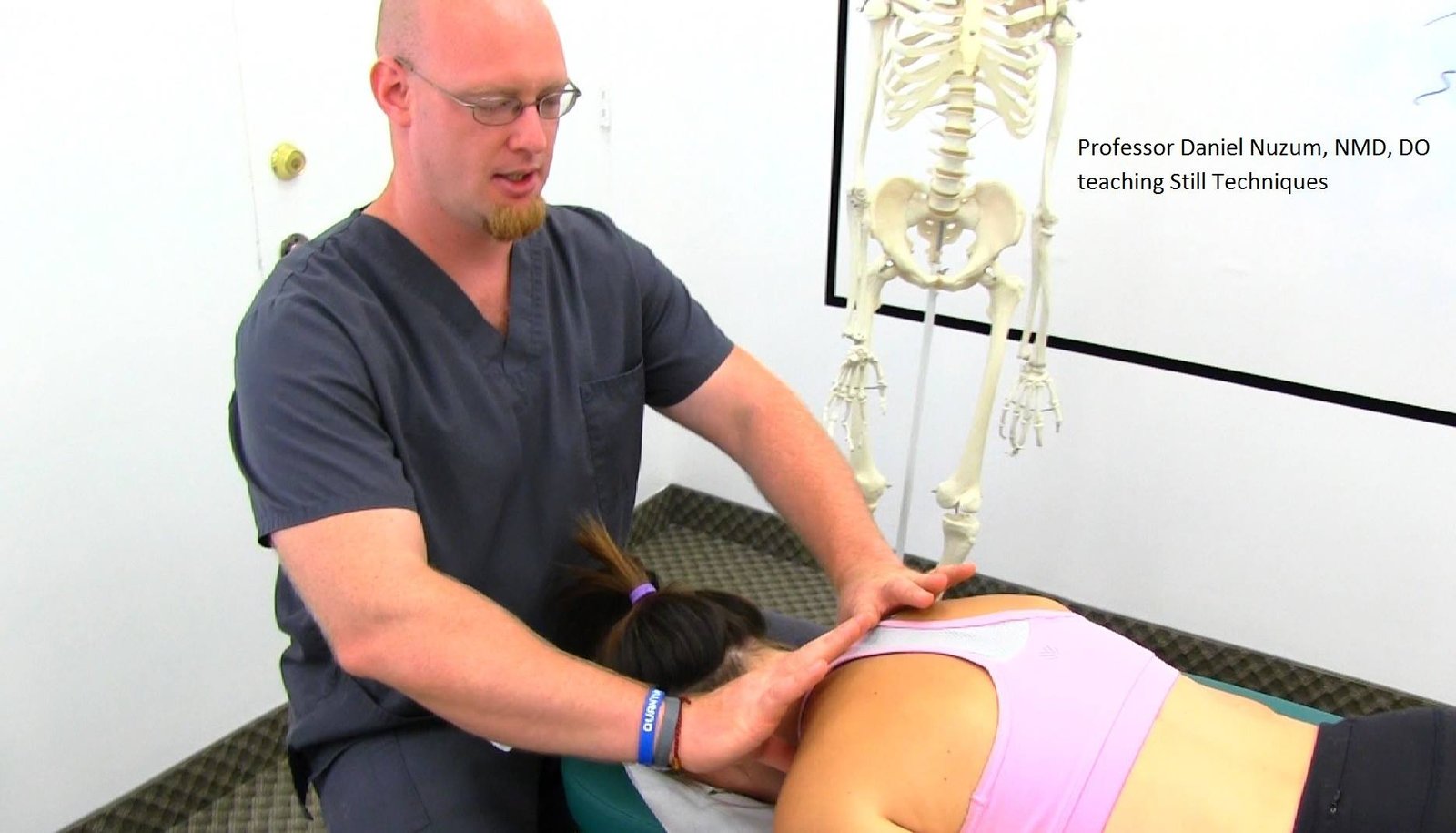 Naprapathy can help people with various pain and dysfunction conditions in the neuromusculoskeletal system. The patients are everyone from babies to older people and from elite athletes to less active people with acute, subacute or chronic conditions.
Why Choose to Study Naprapathy at NUMSS (Spain)?
Because National University of Medical Sciences prepares you to be the most successful doctor of naprapathy. Our program is techniques oriented. You will become a doctor ready to practice in the real world. You will learn subjects not covered elsewhere (orthopaedic bracing, custom made orthotics, decompression therapy, clinical ergonomics, physiotherapy modalities, work & auto injuries rehab.) NUMSS (Spain) offers you a chance to receive a dual degree program (MBA/DN) that would make you a superb doctor and a great businessperson. By the time you graduate you will be well versed in the business side of health care along with the clinical aspect. As such your success is guaranteed. NUMSS (Spain) along with our sister school NUMSS (USA) are the only universities offering a degree program in naprapathy through 100% online education (with available on-campus week-long practical classes at the end of each semester).
You require a bachelor's degree as per-requisites to enter the Doctor of Naprapathy (DN) program. You have an option to take the prerequisite courses concurrently while attending the doctor of naprapathy program. The prerequisite Bachelor of Science program in Osteopathy can be taken concurrently with the DN program. Upon completing the 4 years of studies students graduate with two degrees; a Bachelor of Science in Osteopathy (BSc) & a Doctor of Naprapathy (DN). The dual degree program while being more condensed and harder to complete, offers the students a chance to become a doctor in four years instead of seven and to save on tuition. Graduates then can work as a naprapath as well as an osteopath.
Doctor of Naprapathy (DN) Curriculum
There are 4 different curriculums for the DN program:
Curriculum for category 1 students (4 years) without previous health education
Curriculum for category 2 students with previous health education (2 years)
Curriculum for category 3 students who have a doctoral or physiotherapy degree (1 year)
Curriculum for category 3 students who have a doctor of osteopathy (DO) degree (6months)
Curriculum for DN category 1 students without prior health education (4 years – 4480 hours total – 560 hours per semester)
| 1st Year (1st Semester) | 1st Year (2nd Semester) | 2nd Year (3rd Semester) | 2nd Year (4th Semester) | 3rd Year (5th Semester) | 3rd Year (6th Semester) | 4th Year (7th Semester) | 4th Year (8th Semester) |
| --- | --- | --- | --- | --- | --- | --- | --- |
| HA 101   Human Anatomy | NS 102   Naprapathic Skills II | MM 201   Medical Microbiology | DS 202   Diagnosis & Symptomology | OR 301   Orthopedic Examination | NP 302   Naprapathy Principles, Practice, Ethics& Jurisprudence | AT 401   Auxiliary Naprapathic Therapy (decompression therapy, foot orthotics, orthopaedic shoes, orthopaedic bracing, support hose fitting) | NT 402   Naprapathic Techniques XI |
| HP 101   Human Physiology | NA 102   Neuro Anatomy | PA 201   Pathology | ND 202   Neuro-Diagnosis | NT 301   Naprapathic Techniques VIII | NE 302   Neurology | SN 401   Sports Nutrition & Weight Loss Management | NS 402   Naprapathic Skills IX |
| NT 101   Naprapathic Techniques I | CN 102  Clinical Nutrition | IM 201  Immunology | FA 101  Fitness Assessment and Trainig | NS 301   Naprapathic Skills VI | RM 302  Rehabilitation Medicine | RX 401  Principles of Radiology & Diagnostic Imaging | FC 302  Pathomechanics and Foot care |
| NS 101   Naprapathic Skills I | NS 103   Naprapathic Skills III | NT 201   Naprapathic Techniques V | LD 202   Clinical Laboratory Diagnosis | GB 202   Gait Biomechanics and Anatomy of Lower Limb | NT 302   Naprapathic Techniques IX | NT 401   Naprapathic Techniques X | CE 402   Clinical Ergonomics |
| NM 101 Theory, Philosophy & Methods of Naprapathy | NS 103 Naprapathic medicine Skills III | NS 201 Naprapathic Skills IV | NT 203 Naprapathic Techniques VII | NC 301 Clinic Management in Naprapathy | NS 302 Naprapathic Skills VI | NS 401 Naprapathic Skills VIII | SI 401 Sports Injuries |
| NT 102   Naprapathic Techniques II | TE 102   Therapeutic Exercises | NT 202   Naprapathic Techniques VI | NS 202  Naprapathic Skills V | PT 301   Physiotherapy Modalities | DA 202   Lower Limb Diagnosis and Assessments | PA 301   Lower Limb Patient Assessment | TH 402   Research Project and Thesis |
| CR 101   Cardiopulmonary Resuscitation(CPR) | NT 104   Naprapathic Techniques IV | | CB 102   Clinical Biomechanics | | TP 102   Orthopedic Taping Techniques | | |
Curriculum for DN category 2 students with previous health education (2 years – 2368 hours total – 592 hours per semester)
| 1st Year (1st Semester) | 1st Year (2nd Semester) | 2nd Year (3rd Semester) | 2nd Year (4th Semester) |
| --- | --- | --- | --- |
| NT 101   Naprapathic Techniques I | NT 102   Naprapathic Techniques III | NT 103   Naprapathic Techniques VII | NT 104   Naprapathic Techniques X |
| NS 301   Naprapathic Skills I | NS 302   Naprapathic Skills II | NP 302   Naprapathic Principles, Practice, Ethics & Jurisprudence | NC 301   Clinical Management in Naprapathy |
| CB 102   Clinical Biomachenics | NT 202   Naprapathic Techniques IV | LD 202   Clinical Laboratory Diagnosis | PT 301   Physiotherapy Modalities |
| DS 202  Diagnosis and Symptmology | OR 301   Orthopedic Examination | RX 401   Principles of Radiology and Diagnosis Imaging | TE 102   Therapeutic Exercises |
| NE 302   Neurology | ND 202   Neurodiagnosis | PA 301   Lower Limb Patient Assessment | SI 401   Sport Injuries |
| TP 102   Orthopedic Taping Techniques | CE 402   Clinical Ergonomics | NT 401   Auxiliary Naprapathic Therapy: Orthotics and Casting | FC 302   Pathomechanics and Foot care |
| FA 101   Fitness Assessment and Health Promotion | GB 202   Gait Biomechanics and Anatomy of the Lower Limb | NT 401   Naprapathic Techniques VIII | NS 402   Naprapathic Skills IV |
| NM 101   Theory, Philosophy and Methods of Naprapathic Medicine | DA 202   Lower Limb Diagnosis and Assessment | NS 401   Naprapathic Skills III | NT 203   Naprapathic Techniques XI |
| NT 301   Naprapathic Techniques II | NT 302   Naprapathic Techniques V | NT 201   Naprapathic Techniques IX | TH 402   Research Project and Thesis |
| CN 102   Clinical Nutrition | NT 403   Naprapathic Techniques VI | | |
Curriculum for DN category 3 students with doctoral degree (1 year – 1120 hours total – 560 hours per semester)
1st Year (1st Semester)
1st Year (2nd Semester)
NT 101 Naprapathic Techniques I
NT 104 Naprapathic Techniques VII
NS 301 Naprapathic Skills I
NS 402 Naprapathic Skills III
NS 302 Naprapathic Skills II
NS 401 Naprapathic Skills IV
NT 102 Naprapathic Techniques II
NT 201 Naprapathic Techniques VIII
NT 103 Naprapathic Techniques III
NT 203 Naprapathic Techniques IX
NM 101 Theory, Philosophy ,and Methods of Naprapathy
NT 401 Naprapathic Techniques X
NT 301 Naprapathic Techniques IV
NT 202 Naprapathic Techniques XI
NT 302 Naprapathic Techniques V
TE 102 Therapeutic Exercises
NP 302 Naprapathic Principles ,Practice, Ethics, & Jurisprudence
NC 301 Clinical Management in Naprapathic Medicine
CE 402 Clinical Ergonomics
PT 301 Physiotherapy Modalities
RX 401 Principles of Radiology and Diagnostic Imaging
PA 301 Lower Limb Patient Assessment
TP 102 Orthopedic Taping Techniques
FC 302 Pathomechanics and Foot care
FA 101 Fitness Assessment and Training
TH 402 Research Project and Thesis
NT 402 Naprapathic Techniques VI
Curriculum for category 3 students with Doctor of Osteopathy degree (6 months, 1 semester – 560 hours total)
1st Year (1st semester)
NT 101   Naprapathic Techniques
NS 101   Naprapathic Skills
NM 101   Theory, Philosophy & Methods of Naprapathy
NC 301   Clinical Management in Naprapathic Medicine
TH 402   Research Project and Thesis